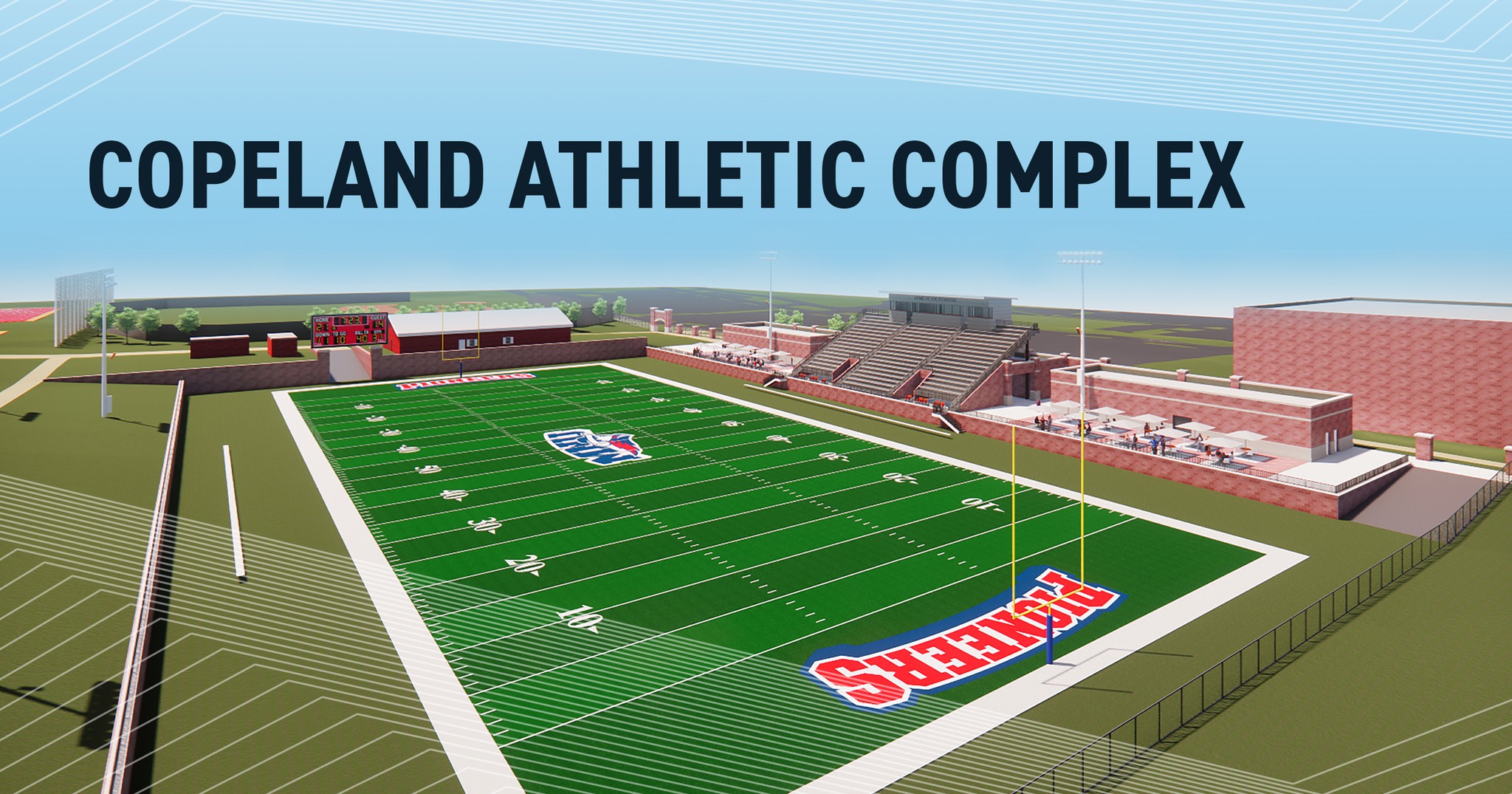 Repost from MidAmerican University: https://www.mnu.edu/mabee-challenge-met-copeland-athletic-complex-fully-funded/
"MidAmerica Nazarene University announced today that its $2-million challenge from the J.E. and L.E. Mabee Foundation to support the new $12-million Copeland Athletic Complex has been met. As a result of this year-long challenge, the project is fully funded, and the groundbreaking is scheduled for September 20, 2023, at 10 a.m.
"We are beyond thrilled and grateful for the overwhelming support that took us over the goal line," says MNU President David Spittal. "Both long-time supporters and brand-new friends of MNU have made this possible through their generous gifts. I have high praise for the diligent work of Dr. Jon North, vice president, and our advancement staff and volunteers who helped uncover new donors throughout this phase of the Bright Futures campaign."
Spittal says the Mabee Foundation has provided remarkable funding levels throughout the university's history.
"The J.E. and L.E. Mabee Foundation has graciously supported seven capital projects at MNU with challenge grants," Spittal says. "The new Copeland Athletic Complex joins six other campus facilities constructed with Foundation assistance. The Mabee Foundation continues to make an indelible mark on our campus, benefiting thousands of students and visitors each year.
According to Jon North, the Mabee Foundation provided MNU with $4.26 million prior to this $2-million grant. The new grant will bring the total to over $6 million since 1977.
"We needed to raise $4.7 million over the past year to meet the Mabee Challenge," North says. "I'm continually in awe of the sacrifice of time, money and resources our donors give on our behalf. Pioneers always put in the hard work to reach a goal. Providing a legacy for future generations is what makes their struggle worthwhile."
The Bright Futures Executive Committee and the Copeland Task Force, which included 13 local leaders, spent countless hours connecting with supporters as the campaign neared its deadline.
The complex is named for former Olathe Mayor Michael Copeland, an MNU alumnus who passed away in 2020. Current Olathe Mayor John Bacon, also an MNU alumnus, is a Task Force volunteer.
"I would like to personally thank the people of Olathe and MidAmerica Nazarene University who participated and made this possible," says Bacon. "It is an honor to recognize the contributions of Mayor Copeland to our community in this manner. This facility will be a great recruiting tool for exceptional talent to our community and I look forward to attending events here in the future."
"These two groups of volunteers felt the pressure to meet this goal, just as much as our staff did, because they believe so deeply in the transformational mission of MNU," North says. "I can't thank them enough for their leadership and support."
North says the enthusiasm of alumnus and Barkman Honey CEO Brent Barkman provided vital momentum to the endeavor.
"It was a pleasure to be a part of the campaign committee and to partner with staff who work tirelessly in the effort to fund this project," Barkman says. "A great athletic complex is more than a gift for the athletes at MNU. It is an integral part of the college experience. It will be a great draw for MNU and an opportunity to share the Gospel with some who might never hear it without the interactions with coaches and staff. Every student at MNU will benefit from this addition in some form during their time at MNU."
The Athletic Department staff, coaches and athletes anticipate using the new facilities in the fall of 2024.
"To see the culmination of years of dreaming about what could be is so humbling," says Athletic Director Todd Garrett. "Improvements to existing facilities coupled with new competition and training space is a significant milestone for MNU. This new complex will create an environment for holistic training and development of athletes for excellence while enhancing community spirit. We look forward to this new chapter in the pursuit of excellence in MNU Athletics.
MNU previously worked with PGAV Architects and A.L. Huber General Contractor on the construction of the Cunningham Center and will continue to do so with the Copeland Athletic Complex.
For more information on Bright Futures: The Campaign for MNU, visit mnu.edu/bright-futures."