Over a Century of Success
From 1903 and a man with a mule building houses $20 at a time, to the 1960s and projects that include corporate offices, financial institutions, warehouses, and manufacturing and education facilities, our range of projects continues to reach new horizons. Today, we build a variety of buildings from private to commercial and municipal facilities. The diversity of our projects is indicative of our depth and creativity when it comes to strong preconstruction strategy, cost analysis, and scheduling solutions.
As we continue the founding values of honesty, integrity, and quality upon which our company was built, we are focused on continuing the strength of our relationships and expanding our construction services in our community. We care about both making our projects enjoyable experiences and finding sustainable solutions for our future. We specialize in the preconstruction process, tailoring our services to the needs of each client's project specific goals.
About
A.L. Huber has dedicated our practice to providing the highest quality of construction in Kansas City. We are committed to our clients, partners, and team, ensuring we deliver only the best experience and built environments in our great city to make it the best to live, work, and play. We manage a wide variety of new and renovated facilities, from new high-tech office buildings to tenant interiors of varying sizes, financial, exhibit & entertainment destinations, to medical and educational facilities, and industrial and manufacturing facilities, with a special heart for community and non-profit venues. We are experienced in renovating historic buildings and restoring them to their original splendor. We also are the go-to company for constructing unique and challenging projects.
Brand Promise
We promise to work side-by-side with our clients as we work together through every decision. We believe in the highest level of customer service and will deliver a product that exceeds our client's expectations. With professionalism and integrity, we will deliver the project on time and within budget. Our team is qualified and committed to providing sustainable solutions within and surrounding our projects.
Award-Winning Safety Program
You can't be the best unless you are the safest. A.L. Huber has proven that our Safety Program is the best. Our success is evident by the multiple consecutive years awarded The Builders' Association Safety Excellence Award, including First Place in 2012 and again in 2013.
Safe jobsites promote efficiency, which is directly connected to the timely execution of project schedules and the ability to remain on budget. In every project is our unwavering commitment to quality and safety.
In 2013, we joined the Build Safe Partnership, which is a partnership between OSHA, The Builders' Association and nine regional general contractors and subcontractors. To qualify, a firm must meet and exceed demanding requirements for their Safety Program.
An internal Safety Director supports our safety program. In addition, we engage a third-party safety consultant in constant contact with our jobsites and provide immediate feedback with photographs and summaries sent to the Safety Director and the president. These professionals are stewards of keeping our staff, clients, public, and site contractors safe. They take their job seriously, and we appreciate their extra attention to detail.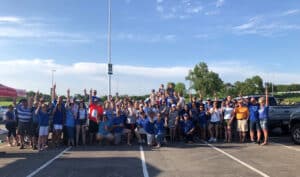 "Since we broke ground, we have been even more pleased and impressed."

"…they jumped in to help us during this vital preconstruction period to help us choose our design, consultants and finishes carefully. They worked in concert with the architects to incorporate our needs….Since we broke ground, we have been even more pleased and impressed."
"There has never been an issue or disruption of our school day."

St. Thomas Aquinas High School

"From the bottom of my heart, thank you to all the folks at A.L. Huber. Every project we have completed with you has come in under the estimated costs and the continual attention to how we can get the same result at a less expensive cost has been appreciated by me and my Board of Trustees. I know that along with us, our architects are happy to be a partner with A.L. Huber."